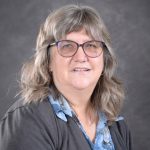 Beth Roybal serves as a new teacher support specialist at the Salinas Union High School District. She is also a lecturer at California State University Monterey Bay. Beth was on the CalTPA redesign team and remains a lead assessor/trainer in English. She has been able to support candidates at UC Santa Cruz, CSUMB, and her district as they complete their teacher performance assessments, and is glad to be able to help support CTI induction candidates who must complete the TPA process.

Introduction to the TPA and Induction Requirement Modifications
This session provides candidates and coaches with an overview of the teacher performance assessment (TPA) requirement, including basic information about the CalTPA and edTPA. Attendees will receive clarifying information regarding how to proceed with completing and submitting the TPA within the CTI induction program inquiry structure, including the supports that are in place for candidates and coaches.
Audience: CTI Induction Coaches and Candidates.
CTC Hosted Performance Assessment Office Hours
The Performance Assessment Division continues to offer weekly virtual office hours to include opportunities for preliminary preparation, induction programs and PS-VTW/EO preliminary candidates to interact directly with CTC staff and ask questions about the CalTPA